The English Age of Pterosaurs, a scientific art book of ZHAO Chuang and YANG Yang, was officially published in November, 2021. As an original work of PNSO, the English-edition has been authorized to Brown Books Publishing through the agent CA-LINK International to publish and distribute in the North America area. All works in this book come from the research results of "Darwin: An Art Project of Life Science" of "PNSO's Scientific Art Projects Plan: Stories on Earth".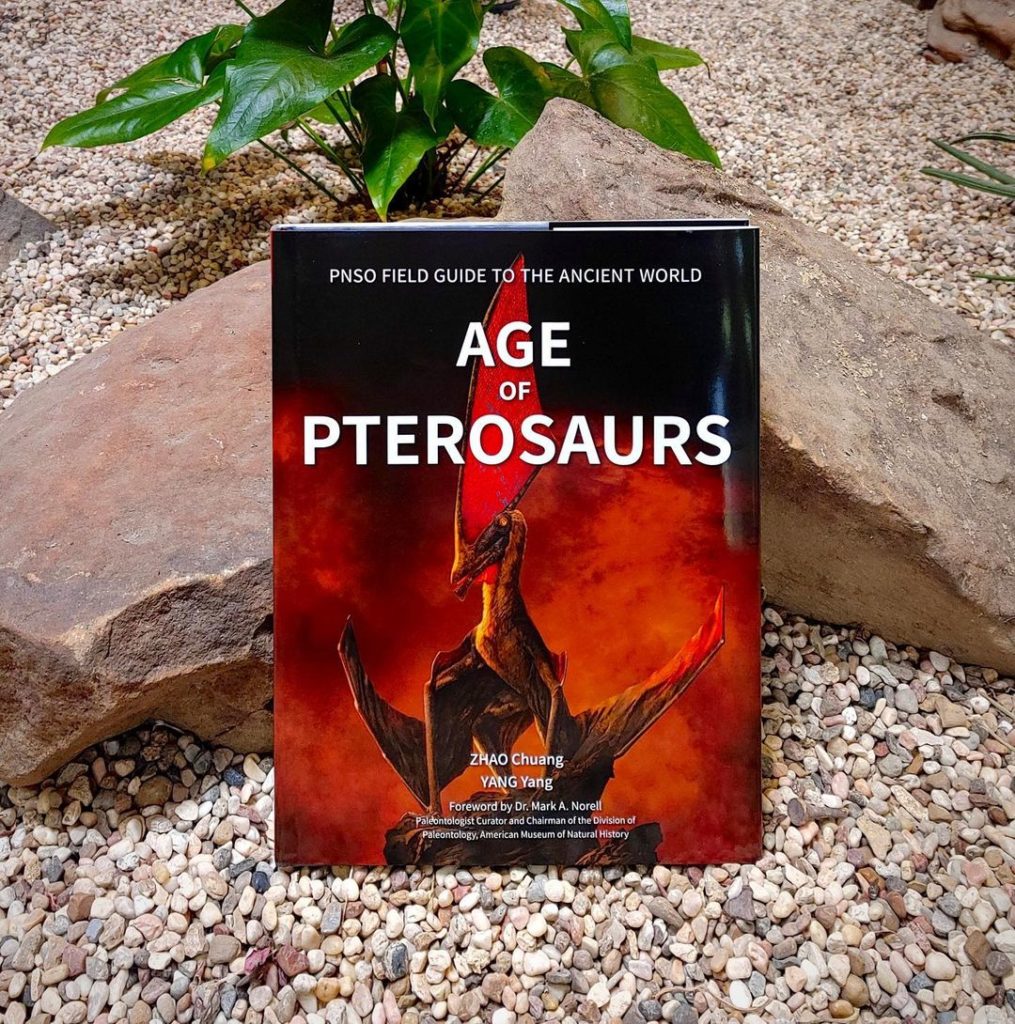 Brown Books describes the book like this: Age of Pterosaurs follows the great achievements of the pterosaurs who believed in the power of their dreams. Through its beautiful illustrations and inspirational stories of the pterosaurs' reign over the skies, this second volume from the PNSO Field Guide to the Ancient World makes the perfect gift for any dinosaur enthusiast!
The English Age of Pterosaurs received many praise and recommendations from experts. Check out what they are saying about this stunning book. All the following comments quote from the Brown Books official website.  
"Having studied pterosaurs-the first vertebrates to develop active flight-for nearly four decades, I am still amazed at the variety of anatomical shapes revealed with each discovery that comes to light. China is providing many amazing new species that, among others, are masterfully captured by Zhao and Yang in their wonderful reconstructions that bring them back to life. I'm sure this book will make readers fall in love with these fantastic creatures."
  -Dr. Alexander W. A. Kellner, Researcher and Director, National Museum / UFRJ, Rio de Janeiro, Brazil
"The skies that are ruled by birds today were once ruled by a vastly different group: the pterosaurs. This book is a fascinating look at their diversity that visually brings them back to life. It is an amazing collection of scientific artistry that offers a graphic appreciation for how much the world has changed over time. It will no doubt grab the hearts and minds of many adults and children, perhaps planting the intellectual seeds to produce professional paleontologists for future generations to come."
  -Lance Grande, Negaunee Distinguished Service Curator of the Field Museum
"It's a beautiful book . . . as fine as the very best field guides to modern birds." 
-Dr. Philip J. Currie, Curator of Dinosaurs and Professor of Dinosaur Palaeobiology, University of Alberta Museum of Paleontology
"Of all the wonderful prehistoric creatures I wish I could see in the flesh, I think pterosaurs are number one. Age of Pterosaurs is the next best thing. The photorealistic pictures truly bring these creatures to life in a fashion I have not seen before. The text and pictures give a good overview of the diversity of these creatures, likely making the reader join me in wishing they could see them in life as well." 
-Dr. Robert McCord, Chief Curator of Natural History and Curator of Paleontology, Arizona Museum of Natural History
The English Age of Ancient Sea Monsters, the third volumn of this series is also coming soon. Please stay tuned.