The series "I Have a Tyrannosaurus Rex" was created in 2011 by Yang Yang, a science fairy tale writer, and Zhao Chuangyi, a science artist. The series, which has been polished for eight years, is divided into three seasons:Growing up Issues (6 volumes), Fantasy Tours (6 volumes), and One Mystery after Another (6 volumes). "I Have a Tyrannosaurus Rex" tells the story of 11-year-old girl Guanguan and her partner Tyrannosaurus Rex, who bravely face confusion and problems in their daily life. With mutual trust, support and help, they learned how to face and solve all kinds of problems in life and how to better understand and love the world.
In this series of soul picture books, readers will experience the hardship and happiness of growing up in Guanguan and her Tyrannosaurus Rex magical adventures, realize the importance and value of family and partners, and think about the vastness and complexity of the world in the hero's strange daily life, and realize their own soul. Track, learn to face the challenges of life bravely, embrace the joy of struggle and the joy of hard work.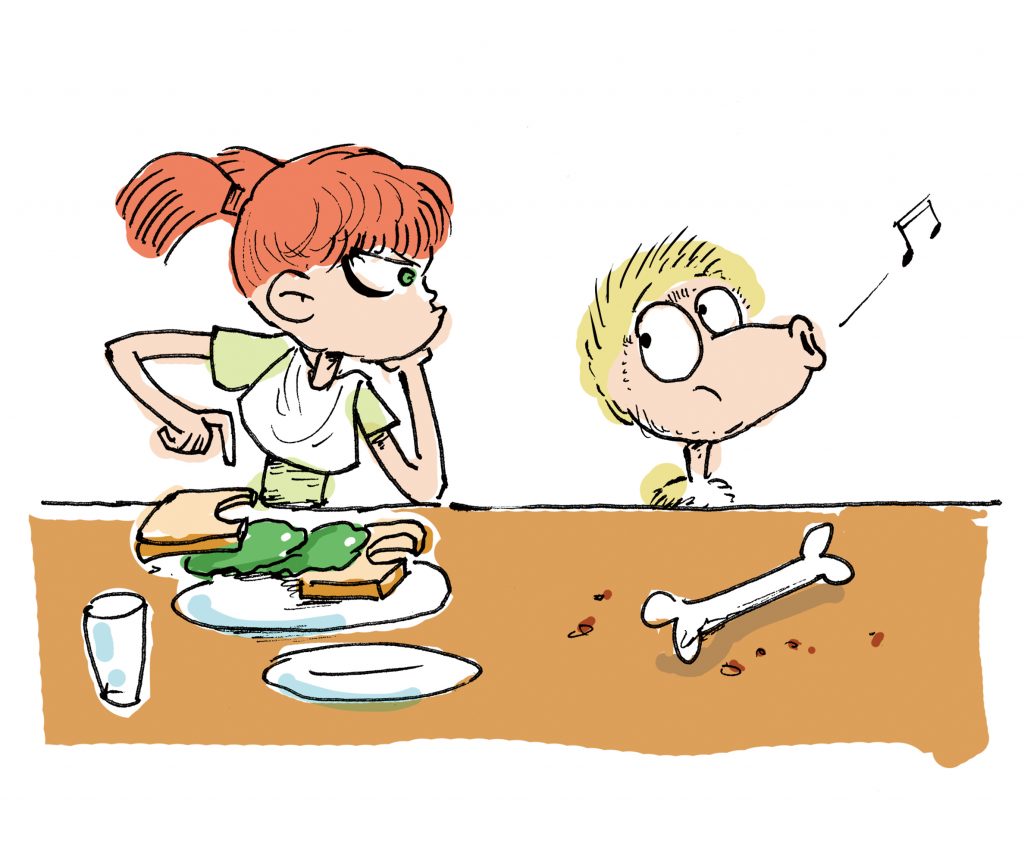 Season One: Growing up Issues
Plot:
In the beautiful Haven City, there lives Guanguan, a common little girl who wants to be extraordinary. Every child may own a pet, but her pet is one of its kind, a T. rex. She wants a pet in order to stop being lonely but has not expected a complete change in life. She and her T. rex rescue stray dogs, adventure the pets' exile land, save squirrels and flying pigs, and fight monsters in the bottom of the sea. . . In the thrilling adventures, they are happier than ever; they also shed many tears, but they never fear, because they know those adventures are part of growing-up!
Season Two: Fantasy Tours
Plot:
After finding the mystic Haven City in the deep sea, the lives of Guanguan and T. rex become full of fantastic adventures. They find a scary castle, a terrifying lab, and they accidentally fall into a black hole during a movie, exchanging their bodies. . . On their magical journey, they learn one secret after another. In order to uncover the final truth, Guanguan and her T. rex bravely march forward, trying to bring about justice. With love, kindness, and courage, they slowly bring light to dispel the darkness.
Season Three: One Mystery after Another
Plot:
After making a promise to A-Xin, a hapless boy, Guanguan and her T. rex start a thrilling adventure. Unknown to them, moments before they are about to find the answer, they discover questions that they cannot answer. A series of unrelated events become connected, and danger surrounds them tightly. If they want to get through layers of lies to the truth, they must pay the price. Do Guanguan and T. rex still have the courage for more adventures? What is the truth they are looking for? Can they complete the final task? What will Guanguan and her T. rex find at the end of the story?